Create a Custom Rug Using Carpet Tiles – It's quick and easy to cut and adapt to any design!
Versatility with Carpet Tile
Carpet tiles have more versatility than Grandma's old davenport (you know the one), and if you're in the market for a rug, you might want to look into making a custom rug with carpet tile!
With carpet tile, you can create your own rug simply and easily and fit it into your space.
Easy to cut & fit into any design.
Perfect for dining rooms! A low-pile carpet allows chairs to easily scoot in and out.
Carpet tile rugs are a great option for a patio or an outdoor living room.
Spills & Stains that won't come out? Don't throw out the rug – Just replace a piece!
Carpet tiles, also known as modular carpets or square carpets, come in a variety of styles, shapes, and sizes. Carpet tiles are incredibly versatile, allowing the installation of different configurations to create different effects.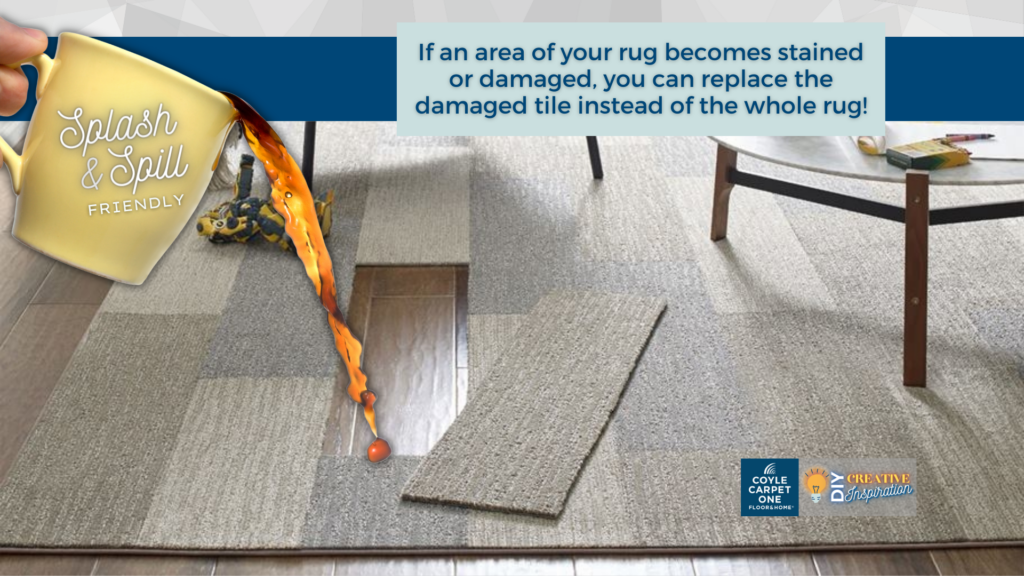 Furthermore, carpet tile makes it very easy to deal with difficult stains which might permanently damage other carpets, such as red wine and mustard.
If a piece or portion of your carpet gets stained or damaged, you can replace only the damaged material, rather than changing out an entire room (or more). This feature makes carpet tiles a great option for high-usage/high-maintenance areas, such as dining rooms, children's bedrooms, and basements.
Using Carpet Tiles to Create a Custom Rug
Here are the materials you'll need to make your carpet tile rug.
Utility Knife (a carpet knife cuts best)
Tape Measure
Carpet Tile Tabs or one-sided carpet seaming tape
Carpet Squares or Planks
WATCH | Create a Rug Using Carpet Tiles
Carpet tiles are available at unbeatable prices in our Madison, WI showroom. Browse select Closeouts & Bargains online, and discover more in our store!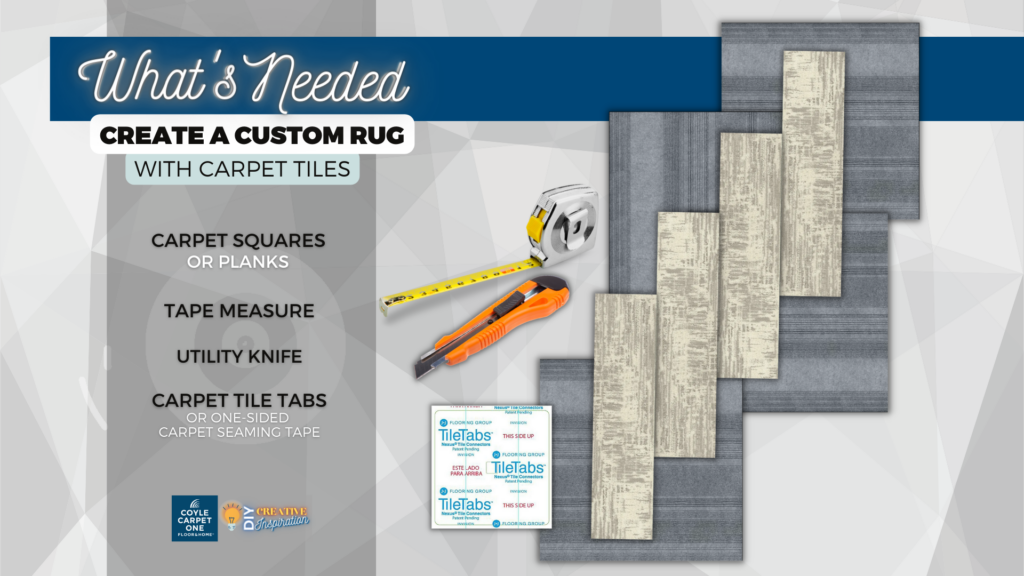 You'll first want to determine the size of the rug you want to create. This will help you determine how many carpet tiles will be needed. For example, a 5-ft by 7-ft rug will require (12) twelve, 20-inch carpet tiles.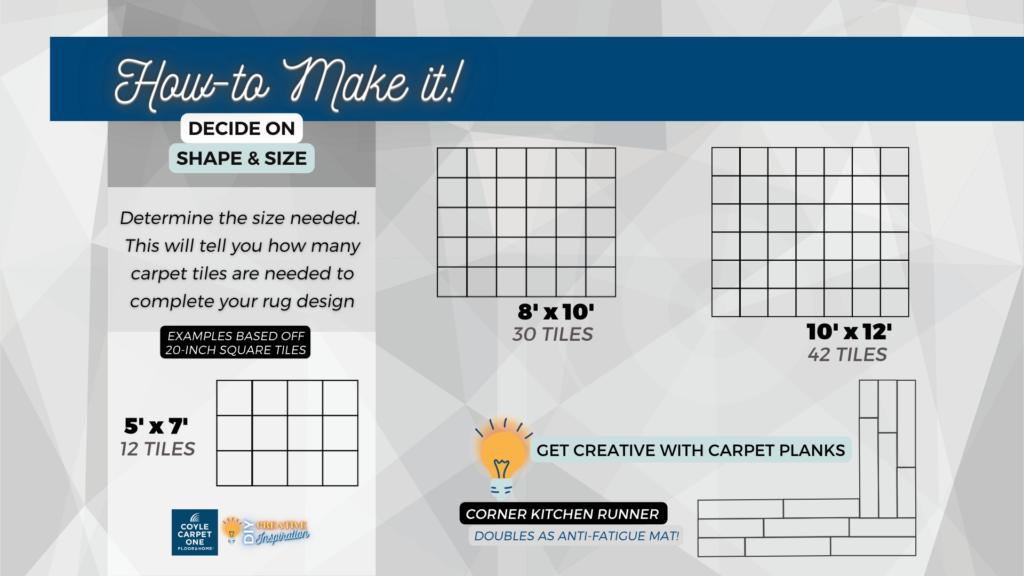 Next, clear out the space where you want your rug to go. It will be easiest to create the rug where it will be installed.
Helpful Tips:
For precision cuts, use a carpet knife.
Carpet tile cuts are easiest when scoring/cutting them from the back of the tile or plank.
Before assembling the rug, make any needed cuts, then test out how they fit together prior to connecting them.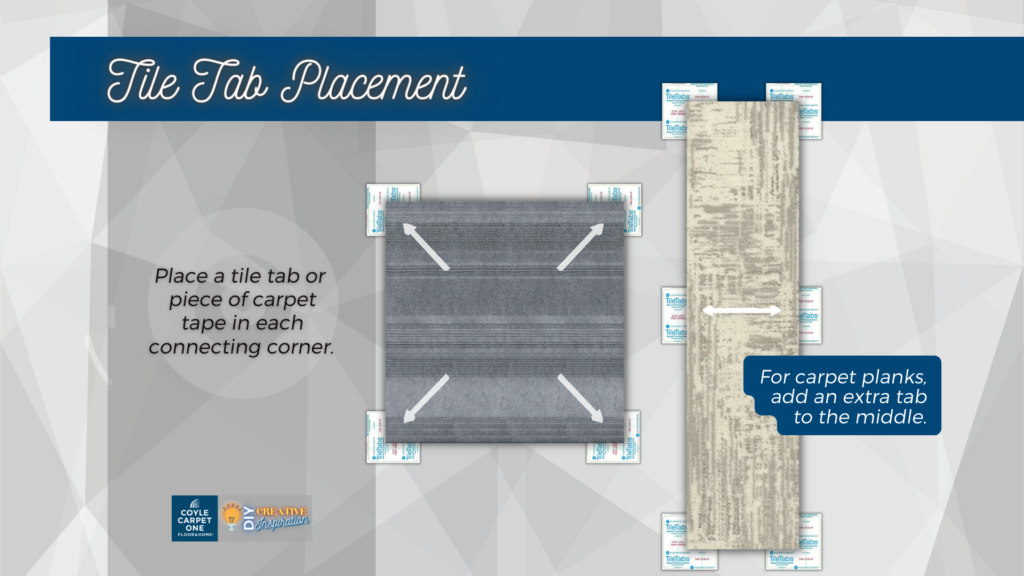 Connect each carpet tile with carpet tile tabs or one-sided carpet tape to make the rug.
Place a tab on each corner of each square that will link to another carpet tile if you're utilizing squares.
If using carpet planks, place an adhesive tab in the center of the plank in addition to the corners.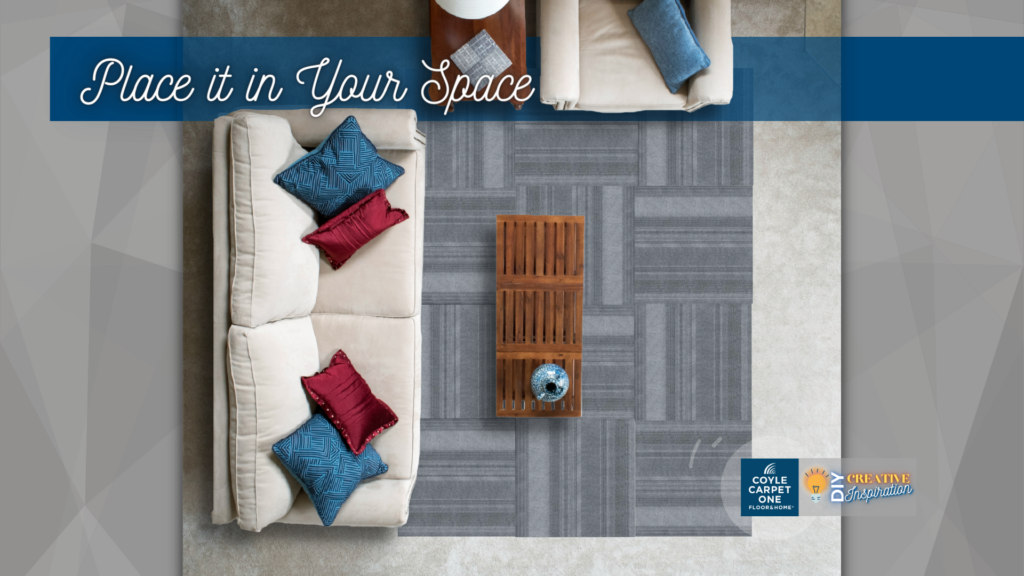 Once you've connected all the tiles, place the rug in your space and ENJOY your custom, made-by-you rug!
Explore more from our blog!