When it comes to hardwood floor care and maintenance, you don't have to use tons of wood floor cleaners, cleaning solutions, or other homemade cleaning supplies. In fact, homemade hardwood floor cleaners and other non-recommended cleaners can damage the finish or void your floor warranty.
It's important that you check with your hardwood manufacturer and the maintenance guidelines to ensure that you are not using cleaners that could cause damage to your floors or void your warranty.
EASY HARDWOOD CARE
Use a hard surface vacuum (brushless) or sweep twice a week for the best results. Sweeping or vacuuming hardwood floors will ensure that your space is free and clear of loose debris.
A microfiber mop is another tool that is beneficial for cleaning wood floors. These mops are gentle and effective, and they pick up dust and allergens from crevices and seams.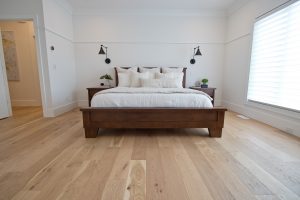 It's best to start with these tools and remove loose dirt before moving on to the next steps. High traffic areas like entryways, hallways, and stairs will see more debris, so take extra care when sweeping, vacuuming, or dust mopping these areas of your home.
DO NOT

use a wet mop with water or steam at any time on hardwood floors. Water can dull the finish and permanently damage the floor.
Additionally, hardwood is susceptible to warping when exposed to water, which means that damages happen quickly when using any water-based product to clean them.
MAINTAINING THE BEAUTY OF HARDWOOD FLOORS
As mentioned, never clean or mop your hardwood floor with water or steam. It's important that you check with your hardwood manufacturer and the maintenance guidelines to ensure that you are not using cleaners that could cause damages to your floors or void your warranty. Waxes or cleaners that need to be mixed with water such as oil, soap, or paste wax products; or other household cleaners that contain lemon oil, tung oil, or ammonia as this may damage your floor and result in a loss of warranty.
DO NOT use any of the following products (or products similar in nature) on hardwood floors:

 AMMONIA-BASED CLEANERS
ACRYLIC FINISHES
WAX BASED PRODUCTS
DETERGENTS
BLEACH
POLISHES AND OIL SOAPS
ABRASIVE CLEANING SOAPS OR ACIDIC MATERIAL
PREVENTATIVE MAINTENANCE
Place protective pads beneath furniture legs to reduce scratches and dents. Replace hard, narrow furniture rollers. Barrel-type wheels (a minimum 1" continuous width is recommended) or wide, flat glides are best for protecting your hardwood floor.
Remove shoes with spiked heels or footwear with any sharp object protruding from them before walking on the floor. Golf shoes and stiletto high-heel shoes are examples of footwear that may cause denting and/or related damage to hardwood floors due to the extremely high compressive force they generate. Such footwear can produce dynamic loads in excess of 1000 pounds per square inch, even when worn by someone of slight or average build.
Use a dolly and/or sheets of plywood when moving heavy objects, furniture, or appliances across your wood floors. It's worth noting that some objects may be too heavy to move across a hardwood floor under any circumstances. Certain types of casters on furniture may damage hardwood flooring.
Protect your floor from direct sunlight. Exposure to the sun and its UV rays accelerates the oxidation and aging of wood and fabrics. This causes the stain and/or wood to fade and/or change color. It is recommended that you rearrange rugs and furniture periodically so the floor ages evenly.


---
MAINTAINING RELATIVE HUMIDITY IS KEY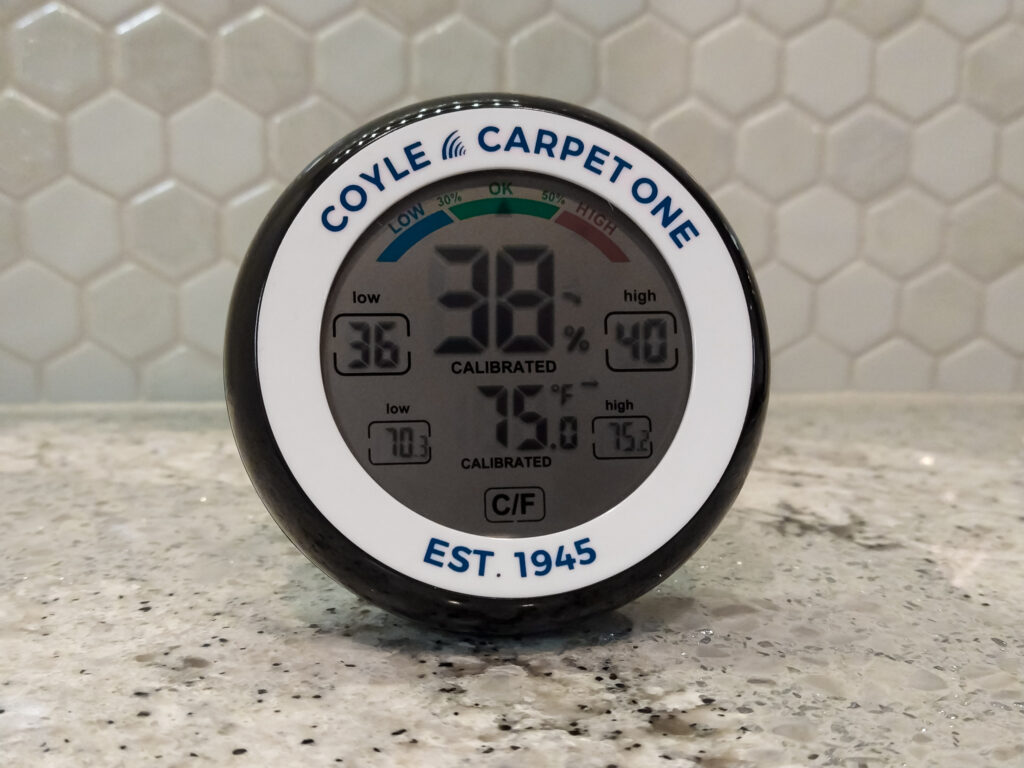 Wood flooring will perform best when the interior environment is controlled to stay within a relative humidity range of 30-50 percent and a temperature range of 60 to 80 degrees Fahrenheit. Use a hygrometer to track and monitor RH levels.
A humidifier is recommended to prevent excessive shrinkage of wood floors due to low humidity levels. Wood stoves and electric heat tend to cause very dry conditions. In damp conditions, proper humidity levels can be maintained with an air conditioner or dehumidifier, or by periodically turning on your heating system during periods of high humidity in the summer months.
For information about relative humidity and how moisture created in your home can affect hardwood floors, read or download our free Hardwood Floor Care & Maintenance Guide.
Visit us on Youtube for more Care & Maintenance advice about other types of flooring products!