For the most part, tile products and require minimal maintenance. Glazed and unglazed tile, under normal residential situations, can be cleaned using clean water and a tile cleaner recommended by the manufacturer.
EASY TILE CARE
To get the longest life and preserve the beauty of your tile, follow these simple tips:
Dust mop interior floors frequently using a clean non-treated dry dust mop. This prevents the build-up of sand, dirt, and grit that are abrasive and can damage the tile.
Doormats or rugs placed at inside and outside entrances will help to minimize the sand, dirt, and grit that may scratch the tile floor. Tile surfaces can also become slippery when wet. Reduce potential hazards by using rugs and carpet runners in hallways, bathrooms, and at entrances to help dry shoe soles. Be sure that the underside of the mat or rug is a slip-resistant surface.
When using a vacuum cleaner, be sure the attachments (metal or plastic) and the wheels are not worn as they can scratch the surface of some tile.
First, immediately blot the spill with a paper towel. Don't wipe the area as it will spread the spill.
Then flush the area with water and mild soap and rinse several times.
Lastly, dry the area thoroughly with a soft cloth.
Repeat as necessary.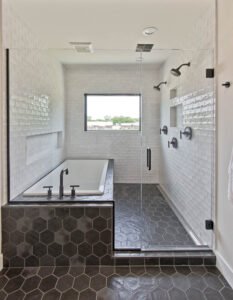 Cleaning Grout
Depending on how dirty your grout is, hot water, a scrub brush, and elbow grease may be all you need to clean your grout. For soap scum and other grime, you may need to take it up a notch by mixing together the following solution.
 ½ C. Baking Soda
¼ cup of hydrogen peroxide
1 teaspoon of dish soap.
Apply to grout and wait a few minutes before scrubbing and rinsing.
SELECTING CLEANING PRODUCTS
Use caution when selecting cleaning products for your tile and grout.
Products containing bleach, ammonia, lemon, vinegar, or other acids can dull or etch your porcelain or ceramic tile and/or grout.
Bleach and ammonia can stain your grout lines and irreversibly damage the color of your tiles.
Steel wool, scrubbing too hard, or using scouring powders or creams can scratch tile causing them to lose their luster or finish.
Further caution should be used when utilizing other household chemicals around or near your tile. Many commercially available rust removers, such as laundry rust stain removers and toilet bowl cleaners, contain trace levels of hydrofluoric acid. The acid attacks silicates in addition to other minerals.
Metals, most commonly mixed in with tile mosaics and used as finishing edges, are highly reactive to bleach and will almost immediately begin to corrode or rust.
Visit us on Youtube for more Care & Maintenance advice about other types of flooring products!