While laminate flooring is remarkably durable, it is not indestructible. Laminate Floor Care & Maintenance is as easy as establishing a regular cleaning routine. By observing the following precautions, you can expect years of beauty from your laminate floor.
EASY LAMINATE FLOOR CARE
Sweep, dust, or vacuum the floor regularly with a hard surface (brushless) vacuum to prevent the accumulation of dirt and grit that can scratch or dull the floor finish.
Periodically clean the floor using a damp mopping and manufacturer-recommended cleaner. Refer to your manufacturer's warranty guidelines regarding recommended cleaners.
As an added protection, use dirt-trapping walk-off mats at all exterior doors to help keep sand, dirt, and grit off your laminate flooring.
Remove spills promptly by using a soft cloth and hard surface cleaner. Unlike hardwood, the surface of laminate floors can't be refinished in the event of stains or damage.
Do not use soap or detergent-based cleaners, wax-based products, or any type of polish as they leave a dull, filmy residue.
Do not flood your floor with water or clean with a steam cleaner.
Refer to your manufacturer guidelines for tougher cleaning and spot removal information. 
PREVENTATIVE MAINTENANCE
Laminate Floor Care & Maintenance is even easier when you protect your floors from future wear & damage.
Place protective pads beneath furniture legs, tables, and other easily movable furniture to reduce scratches.
Replace plastic casters on chairs with rubber wheels and lift rather than slide heavy objects across the floor.
Remove shoes with spiked or damaged heels before walking on the floor. Spiked or stiletto high-heel shoes may cause damage to laminate floors due to the extremely high compressive force they generate. Such footwear can produce dynamic loads in excess of 1000 pounds per square inch even when worn by someone of slight or average build.
To prevent slippage of area rugs, use a manufacturer-approved vinyl rug underlayment.
Keep pet nails trimmed and paws clean as well as free of dirt and gravel that may scratch your floor.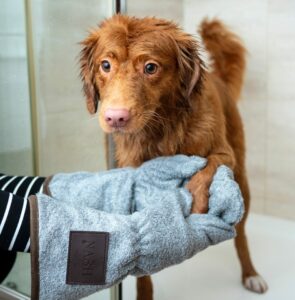 Keep pet nails trimmed and paws clean as well as free of dirt and gravel that may scratch your floor.
MAINTAINING RELATIVE HUMIDITY
Laminate flooring will perform best when the interior environment is controlled to stay within a relative humidity range of 30-50 percent and a temperature range of 60 degrees to 80 degrees Fahrenheit. Use a hygrometer to track and monitor RH levels. Failure to maintain RH can result in laminate planks gapping and shifting.
For more information about laminate floors and how moisture can affect them read our downloadable Laminate Care & Maintenance Guide!
Visit us on Youtube for more Care & Maintenance advice about other types of flooring products!