Learning how to care for carpet has never been made easier with our Care & Maintenance Guide!
Carpet is well-known as a flooring choice that's warm, comforting, and quiet. With the vast number of carpet styles and types of carpet available today, it's no secret that carpet continues to be a top choice. Maintaining the look of your carpet with today's floor manufacturing technologies has never been easier!
CARPET CARE BASICS
Vacuum carpeted areas weekly to avoid build-up dirt and debris.
Heavy traffic areas such as hallways, stairs, and exterior entryways, should be vacuumed at least twice a week.
Do not apply stain-repellent treatments containing silicone as they are unnecessary and tend to accelerate the soiling of carpets.
For best results, use a vacuum approved by the Carpet and Rug Institute. 
WATCH | How to Care for Carpet
PREVENTATIVE MAINTENANCE
Be proactive in keeping dirt and soil from entering your home and against future wear. Doing so will help to keep your carpet looking its best over time.
Place doormats at entrances to your home to help capture dirt, sand, soil, asphalt, and other debris before it is tracked inside. Clean the mats on a regular basis and as needed.
CLEAN AREA RUGS REGULARLY
If you use area rugs on your carpet it's important to have them cleaned regularly. Because the color in some rugs may bleed through, check rugs for colorfastness before placing them on the carpet.
When moving heavy furniture, use protective barriers such as heavy cardboard or plywood, placed between the furniture and carpeting to prevent damage. Even if the larger items are on wheels, a barrier should be used to prevent damage to the carpet backing.
Furniture casters help distribute weight and limit indentations. Occasionally moving furniture will help reduce pile crushing and minimize traffic patterns. Be sure to use chair pads for furniture with rollers or casters.
REDUCE PERIODS OF DIRECT SUNLIGHT
Avoid color fading and color loss by protecting your carpet with the use of blinds, shades, and/or awnings.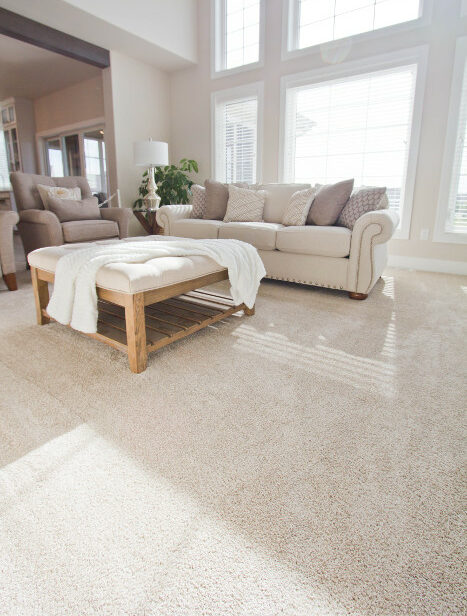 Before hiring a company, check your manufacturer's warranty guidelines regarding the cleaning method for your carpet.
PROFESSIONAL CLEANING
Carpet manufacturers require professional cleanings every 12-18 months in order to maintain your carpet manufacturer warranty. You may have to clean your carpet professionally at closer intervals in areas of heavy usage. Hot water extraction is required to maintain most warranties. Some styles, however, must be cleaned in other ways.
Before hiring a company, check your manufacturer's warranty guidelines regarding the cleaning method for your carpet, and ask about their cleaning methods prior to hiring. Use caution with natural fibers such as wool, cotton, silk, and sisal as they may require specialized care.
Lastly, you must retain your professional cleaning receipts for proof of maintenance service. You'll need this information should a warranty claim arise on your carpet.
Check the Carpet & Rug Institute website for professionals in your area.
Visit us on Youtube for more Care & Maintenance advice about other types of flooring products!