Changing Out Cabinet Hardware
Imagine yourself standing in your kitchen or bathroom. A lot of big ideas come to mind, from installing a new sink to completely changing the layout through extensive renovations. Those are admirable goals, but there may be several reasons why a large-scale project isn't a good idea at this time. Maybe you need to save up a bit more or perhaps you have life responsibilities that will pull you away from making important design decisions.
Whatever the reason, take comfort knowing that sometimes a quick refresh can be as simple as changing out your cabinet hardware. It's an efficient way to makeover a kitchen or bath in a hurry. In fact, it can be easily done in the timeframe of an afternoon. It's also a great way to show off your personality and tastes! Switching out your hardware is a simple way to update the look of your cabinets.
In combination with good lighting, hardware can add a lot of interest in texture and finish, adding some sparkle and shine to any room. There's a near-dizzying amount of cabinet hardware options available today. It can be a tad overwhelming when considering metals, materials, finishes, and colors. That's why it can help to gather some inspiration first.
Gather Inspiration
Websites such as Pinterest, Houzz, and Instagram are all great tools to help visualize rooms with different wood and hardware color combinations. There are so many great design resources available now making it easier to see what type of combinations you like. After you save all of those hardware ideas, it can be helpful to meet with a designer.
The help of an experienced designer is something to utilize. They have seen many different looks put together and can help you select a style and color to match your particular tastes and personality. Many things are taken into consideration when choosing hardware, such as the finishes and styles of your appliances, your lighting, and the plumbing fixtures. A designer can help form a cohesive look within all of those elements.
On-Trend
You can always go the classic route with your hardware picks, or you can look to current trends as well. On-trend colors in hardware are brass or gold, as well as matte black finishes. Shapes and styles tend to lean more contemporary. Larger-scaled pulls are quite popular and pull-over knobs are more common.
---
Our Kitchen & bath and flooring showroom, located in Madison, WI, is a great place to find inspiration! Stop into our showroom and browse our premium flooring, cabinet, and countertop brands.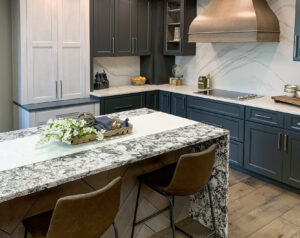 Call ahead or drop us a line to set up a no-obligation consultation regarding your project!