Rugs, by definition, protect your floors, but what about rugs that protect your pets? Rugs not only provide a better grip for their paws when frolicking since dogs and cats both use their toenails for gripping, but they can also help prevent joint and other costly injuries. In addition, they help keep your pet warm on cold floors.
Hard Surface Flooring and Pets
You don't have to sacrifice high-quality wood, vinyl, or laminate floors for your four-legged friends.
Hard surface floors are wonderful solutions for allergy sufferers, are easy to clean, and can withstand more foot traffic than other floor coverings; however, if your pet skids across the floor while playing or jumping, it can lead to hip dysplasia, arthritis, and other ailments, especially as your pet ages.
Slippery floors are a source of concern for puppies as their joints develop. Some experts believe that hip dysplasia can begin as early as the whelping box, where puppies simply don't get enough traction to move around. This could be an early contributor to joint laxity (looseness), which causes dysplasia and other problems.
An elderly dog may find it difficult to navigate a slick surface, especially if standing and getting up is already difficult due to joint pain. Take special note of where your dog prefers to nap or rest. Getting up from a slick floor can be difficult, especially for larger or older dogs, so a rug will make things easier and more comfortable for him.
Consider the stairs as well. If your dog slips and falls down the stairs, the injuries he sustains can be severe. Invest in a good runner and secure it to your stairwell. A lack of grip puts additional strain on your pets' joints. This applies to both dogs and cats. If you're looking to install a stair runner or want to add carpet to your stairs, contact us for a free estimate!
Rugs Prevent Slips and Protect Your Floors from Dirt & Debris
Rugs not only keep your floors safe from slipping and sliding, but they also protect them from pet nail scratches and dirt tracked in by foot and paw traffic. Essentially, rugs serve as a shield against debris and dirt that would otherwise scratch them. Use a brushless vacuum on hard surface floors and under your rugs as the dirt our pets track in can become trapped, causing abrasive scratches; think sandpaper. Remember to vacuum and clean your rugs on a regular basis.
Download our free flooring care and maintenance guides here.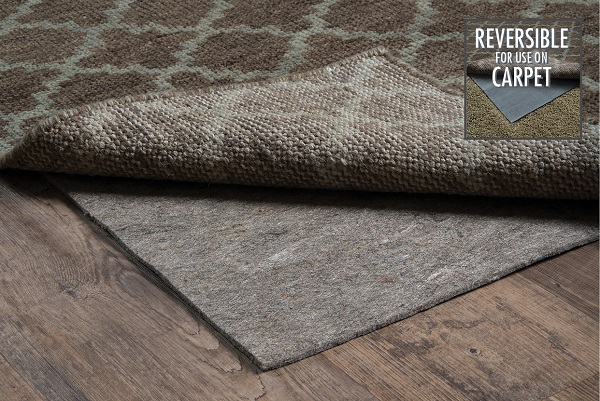 Rug Backings, Pads, and Floor Types Oh My!
When shopping for rugs, keep in mind the material of the rug's backing as well as the type of flooring (hardwood, laminate, vinyl) that you will be placing the rug(s) on top of. Choosing a high-quality rug pad is critical for avoiding future problems.
It is important to note that, regardless of the type of floor, corner-only rug grippers should be avoided because they do not anchor the entire rug. They also make it easier for dirt and debris to get under your rug, causing scratches.
Hardwood Floors
Avoid using foam-backed, plastic, or PVC mats or rugs because they can trap moisture and possibly discolor your hardwood floors. Some backings and pads can cause a chemical reaction with your floor's finish, causing it to smudge. Instead, look for pads made of felt, natural (not synthetic!) rubber, or a combination of the two. Learn more about caring for and maintaining hardwood floors by clicking here. 
Laminate Floors
Rug pads made of natural rubber or felt are recommended for use on laminate floors. Rough-textured rugs made of fiber, plastic, or other tough materials should be avoided because they can scratch a laminate floor. Also, avoid rugs with dark-colored dyes that do not explicitly state that they are colorfast because they can stain the floors. Learn more about the dos and don'ts of owning laminate floors.
Vinyl Floors
Even though vinyl floors are known for their durability, they can be easily scuffed, scratched, and stained by an unanchored rug. Proceeding with caution when purchasing a rug pad may appear excessive. But if you choose the wrong one, you could quickly ruin your brand-new luxury vinyl plank floors. Vinyl flooring is composed of polyvinyl chloride (PVC), a material that is severely harmed by the chemicals that "off-gas" from synthetic plastics.
When choosing a rug pad for vinyl flooring, look for one with a felt, soybean oil-based polymer blend, or viscoelastic memory foam backing. Synthetic rubbers should be avoided at all costs because they will inevitably ruin your floor. Read more about Vinyl Floor Care.
Stone & Tile Floors
While tile and stone flooring are generally the most durable and easy to maintain, problems can arise if the proper rug pad is not used. Because tile does not absorb water, dust, or pet hair, it becomes slick quickly. Area rugs typically solve this problem, but they introduce a new tripping hazard on tile flooring if the best carpet pad for the job is not used. Most area rugs have a coarse, synthetic backing that provides no friction when placed on smooth flooring. It can also leave permanent scratches on stone and tile flooring if not properly protected with rug pads.
When shopping for rug pads to go over tile flooring, look for natural materials that provide both cushioning and a firm grip, such as felt and natural rubber
READ MORE:
Need help choosing the right floor for your pet? Click here.
Custom Rugs at Coyle Carpet One
Coyle Carpet One has many custom rug options and price ranges, and most of the carpets in our showroom can be turned into custom area rugs! Don't forget to inquire about our available rug pads!
Visit our showroom today for a no-obligation estimate from one of our knowledgeable floor and home consultants. OR take a look at our always-affordable pre-bound remnants! Prices for 2'x8′ runners begin at $25. And, with pre-bound rugs starting at $99 for 8'x10′ and $119 for 9'x12′, we have your budget-friendly flooring options covered!