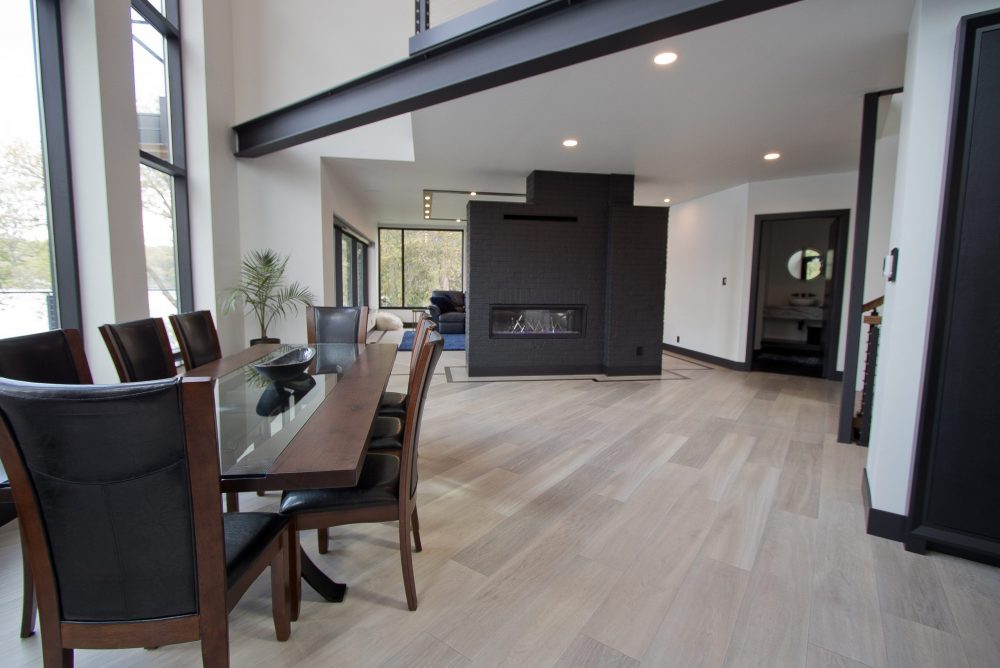 Project:
Modern Lake House
Completed
2021
Our modern lake house took over a year to meticulously craft into a masterpiece. Vinyl flooring played a pivotal role in achieving its breathtaking appearance.
Floor & Home Consultant, Crystal Welsh, helped the homeowners create a space that was both stylish and functional. The final result was a space that exuded class, elegance, and modern charm.
Key Highlights from the Project:
Feast your eyes on the exquisite wood-look luxury vinyl plank (LVP) in the captivating Glacier Oak shade, flawlessly installed throughout the main level. The kitchen and home office boasts alluring accents with black oak parquet vinyl, adding a touch of sophistication. Learn more about the ease of luxury vinyl floor care by clicking here.
Step into the home office's all-black shower, adorned with 3-in. by 6-in. matte black reversed bevel tile on the walls, complemented by 2-in. by 2-in. black matte hexagon mosaic tile on the shower floor for a striking contrast.
The 12-by-24-inch matte white floor tile in the owner's bathroom, along with the large format tiles that mimic the opulent appearance of marble in the shower, exudes elegance. Coordinating marble mosaics create a stunning shower floor.
The lower-level baths are graced with a 16-in. by 16-in. white luxury vinyl tile, offering both durability and beauty.
In the kitchen, discover a European-style 4-in. by 16-in. glossy, textured tile that serves as an eye-catching backsplash.
Explore this splendid modern lake house along with numerous others in our project gallery on Houzz!