How to Care for Laminate Floors – Get our downloadable laminate flooring care & maintenance guide for free!
While laminate flooring is remarkably durable, it is not indestructible. However, by observing the following precautions, you can expect years of beauty from your laminate floor.
Vacuum or sweep daily to help eliminate fine particles of dirt and grit which act like sandpaper and will scratch any floor. The vacuum should be brushless, or able to have the option to turn the brush off.
As an added protection, use dirt-trapping walk-off mats at all exterior doors to help keep sand, dirt, and grit off your laminate flooring.
Use a dust mop or wipe occasionally with a damp cotton or cloth mop.

Do not use soap or detergent-based cleaners

, wax-based products, or any type of polish as they leave a dull, filmy residue.

Do not flood your floo

r with water or clean with a steam cleaner.
Be sure to keep pet nails trimmed and paws clean as well as free of dirt and gravel that may scratch your floor.
Remove spills promptly by using a soft cloth and a manufacturer-recommended cleaner.
WATCH | How to Care to Laminate Floors
Protect Against Damage
Place protective pads beneath furniture legs, tables, and other easily movable furniture to reduce scratches. Replace plastic casters on chairs with rubber wheels and lift rather than slide heavy objects across the floor.
Remove shoes that may cause damage to your floor. Spiked (i.e. golf shoes or cleats) or stiletto high-heel shoes can cause damage to laminate floors due to the extremely high compressive force they generate.
Keep relative humidity (RH) in the area of use within a normal range.
In Midwestern states, laminate floors perform best when their interior environment is controlled and kept within a relative humidity range of 30-50 percent, and a temperature range of 60 degrees to 80 degrees Fahrenheit.
Use of a hygrometer (humidity gauge) is strongly recommended.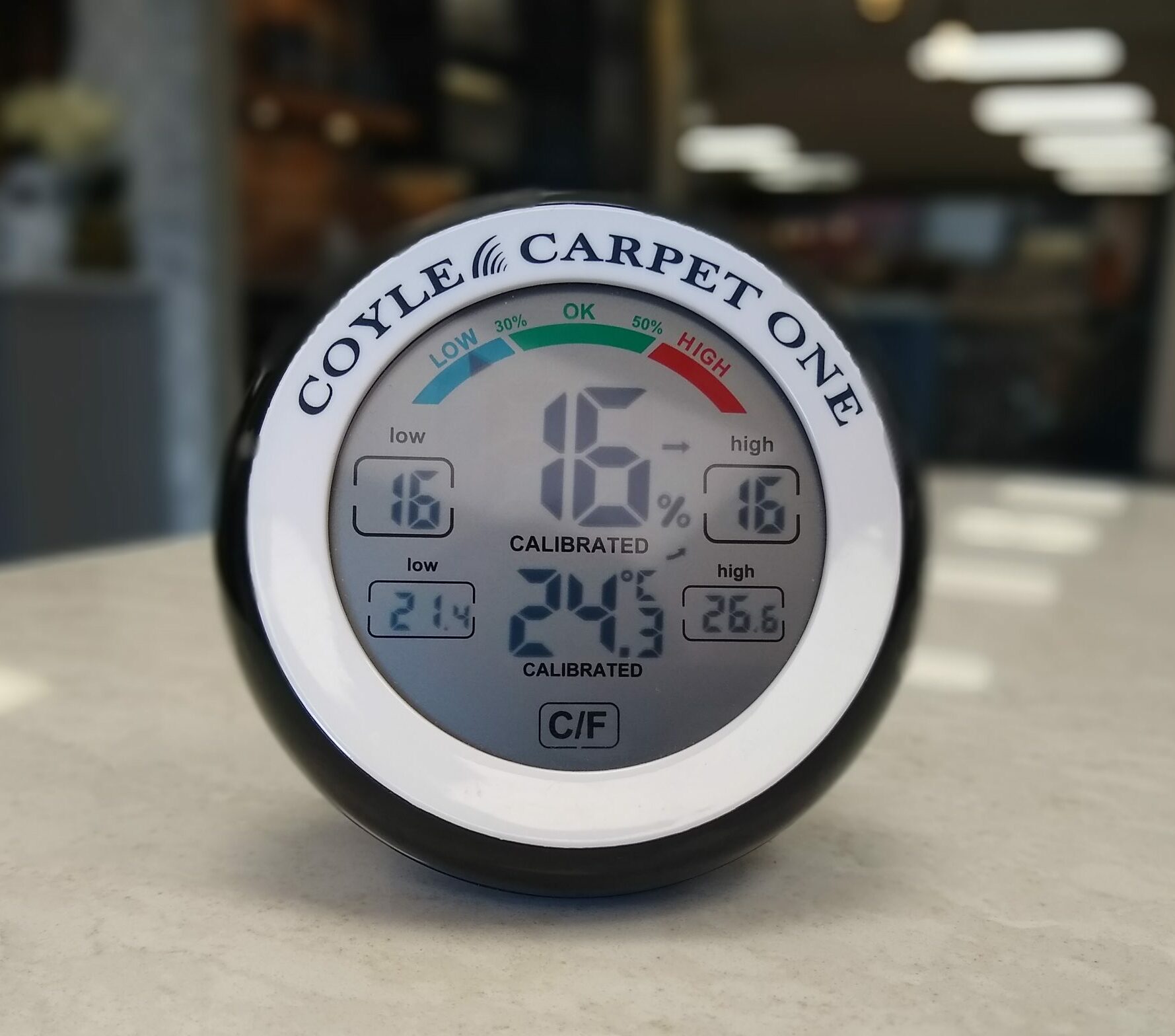 Find "How to Care for Laminate Floors " and other helpful care & maintenance videos on Youtube.